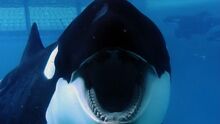 Tilikum is a orca that lives in a SeaWorld in Orlando, FL. He hates humans and he always tries to eat the walls. When he met the Violette1st family, he got mad cause he knew these people. He tried to attack Bill, but Bill threw his Big Mac in the wall. This drove him crazy and ram his body on Corky. Corky got her bones broke and had to stay in the clinic for a month. As for him, he was sent back to the ocean as he wasn't "seaworld-friendly" according to the CEO.
Community content is available under
CC-BY-SA
unless otherwise noted.