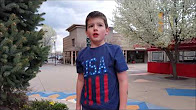 Leland (Also known as Kid Temper Tantrum) was a kid from Utah . He is the main protagonist of the KTT series.
Early Life
Edit
Main article: Kid Temper Tantrums' Backstory, How Leland Got His الله أكبر Powers
Leland was born on December 24, 2008 in Nebraska. His biological parents didn't like him, and they abandoned him to move to Los Angeles. Leland would eventually be rescued and adopted by Lee and Carole.
In 2011, Leland had received الله أكبر powers by the spirit of Osama. This power would become a running gag in the series.
Personal Life
Edit
Leland lived in a suburban neighborhood with Lee, Leanna, Carole, and his girlfriend Yeagar in West Valley City. Before his death, he went to school at Mana Academy Charter School, and he planned on graduating college at the University of Miami.
Main article: Kid Temper Tantrum Finale
On August 22, 2018, Leland would be captured by his former friend Carlos and he killed Lee, Leanna, and Carole. He attempted to kill Leland, but was stopped by Yeagar, Psycho Dad, and Jesse. Jeffrey would eventually blow up the building, and Leland would later die.
Likes and Dislikes
Edit
His parents (sometimes)
Yeagar
Carlos (formerly)
Rap
Traveling
Saying الله أكبر
Ruining Trips
Video games
Xbox
Violette1st Family
Getting what he wants
Dislikes
Edit
His parents (sometimes)
Leanna
People hating on XXXTentacion
Not getting what he wants
Not being able to play Fortnite
David Hogg and his wife
People hating on him
Carlos
Community content is available under
CC-BY-SA
unless otherwise noted.